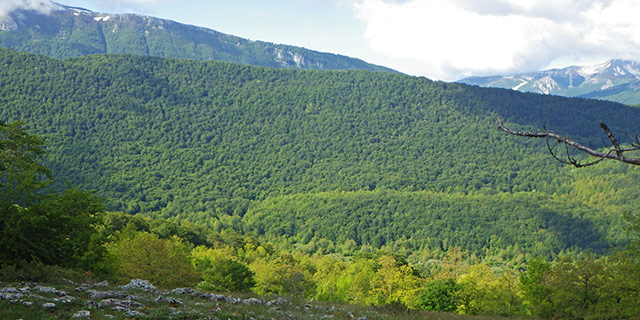 Duration: 3h30' one way, 6h00' return
DOWNLOAD MAP
DOWNLOAD GPX AND KML FILES
A walk of about 10km with an average slope of 5.4% and an elevation of 400m leading to the church of the Santissima Trinità  that probably dates from the C16th and comprises the main building, the sacresty and a small hermitage. Inside there is a fresco representing the Holy Trinity and the civic crest of Tione degli Abruzzi. Today this is the setting for a celebration of the Holy Trinity that takes place on the first Sunday after Pentecost when the faithful bring devotional food, the panette, to be blessed.
Leaving the church, the path crosses the Piana di Iano, now grazing lands for cows, and then runs along the slopes of Colle della Scifella and other hills finally arriving in Rocca di Mezzo. From here it is possible to return by following another beautiful path, from the cemetry, that leads to the pagliare of Fontecchio.
Nature
The plain of the pagliare of Tione – or "piano di Iano" in dialect – is a classic high karst plateau that is dry on the surface but rich in underground water that erodes as it flows across the strata of carbonate rocks. Today the plateau is a meagre pasture for the large white cows that roam free. In the spring the plateau now flowers in spectacular style with diverse species of orchids though it was once intensively farmed.
Entering the woods, there are downy oaks, hornbeams and flowering ash, and here and there various species of maple. Dotted amongst them is the Montpellier maple with its small three-lobed leaves. Climbing the Cardora valley, follow a track bordered by bushes of wild rose, dog wood and cornel before entering, at a certain altitude, the realm of the beechwood.