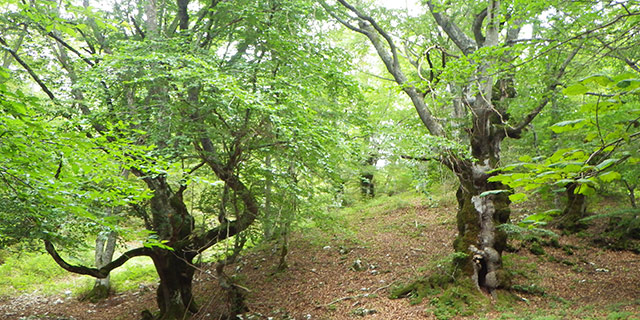 Length of walk: 2h15' one way, 4h00' circuit
DOWNLOAD MAP
DOWNLOAD GPX AND KML FILES
A circuit of 14 km with an average slope of 10% and an elevation of 500m from Secinaro to the Chalet del Sirente as far as the Tempra Lake, returning to Secinaro by another route. In the lovely woods near the Tempra Lake there is a picnic table, and at the Chalet there is a café/restaurant service during the summer.
From Secinaro to the Chalet Sirente you walk along path no.19 of the Parco Sirente Velino and from here you join no.19A that takes you to the little Tempra Lake. Another 400m along you come to a crossroads where to the right the path descends to Goriano Valli where there is a bar/pizzeria, and to the left you join path no. 19C leading to the pagliare of Tione.
To return to Secinaro head towards Goriano, at the crossroads after Tempra, and having joined the little asphalt road, you turn to the right and go on for 500m and then take a short stretch of track that cuts the corner and rejoin the road as it descends for another 1700m as far as a wide turn to the left, here a carriage track leads off to Secinaro.
Nature and landscape
From Secinaro you descend into a deep wide limestone valley carved out by a seasonal water course and covered by woods of recent origin with hornbeam, hazel, dogwood, flowering ash and here and there a nettle tree dotted amongst the rocks. Just before the Chalet, there is a picnic area, a drinking fountain and a pond established by the Park to increase the chances of the reproduction of mountain amphibians.
Here we are in the realm of the charcoal burners who built great pyramids of wood, covered with earth, here and there amongst the trees that allowed the slow combustion of wood, with little oxygen, to produce charcoal. Once past the car park, there is a wide plain below where hay was mown to feed the mules and other domestic animals. When we arrive near Tempra Lake, there is a pretty beech wood and some maples of impressive size.