Continuing through the valley, we arrive at the village of Sant'Eusanio Forconese a small, charming settlement of about 450 inhabitants located admist magnificent natural scenery. "Il Recinto," or fortified castle, with its adjoining church "Madonna del Castello" were built probably between the twelfth and thirteenth centuries on top of the hill overlooking Sant'Eusanio Forconese.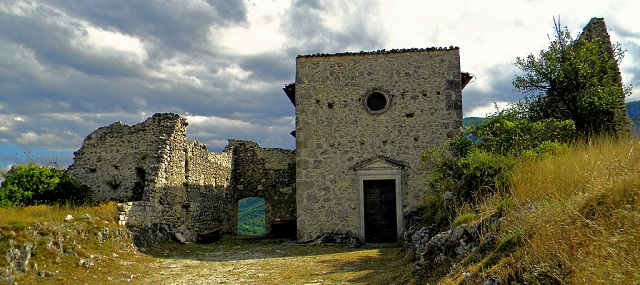 In the main square, along with a beautiful nineteenth century fountain, tourists can discover the beautiful Palazzo Barberini and the fascinating Basilica di Sant'Eusanio, with its valuable fifteenth and sixteenth century frescoes and a beautiful twelfth century crypt with seven naves and three apses.
The numerous columns supporting the crypt are distinctive because they are all unequal. Above the entrance door is a valuable Baroque organ from 1772, built by the famous organ builder Adriano Fedri Altri (1719-1797).
For info:
www.comune.santeusanio.aq.it